President of the Farmers Association National Councilor Georg Strasser and National Councilor Laurenz Pöttinger convinced themselves of the innovative spirit of PÖTTINGER Entsorgungstechnik GmbH. During the tour of the company, the two members of parliament received an exciting insight into waste disposal technology and fermentation technology.
The president of the Farmers Association, Georg Strasser, is delighted with the latest developments: "Here in Grieskirchen, we can see how organic waste can be recycled ecologically and economically using new technologies. Namely, that the remaining material is processed into compost in a subsequent rotting process and used as humus fertilizer. "
National Councilor Laurenz Pöttinger was also impressed: "Nowadays it is all the more important that economy and nature work in harmony. With its fermentation technology, Pöttinger demonstrates how it can work. A company equipped with a vision, a high level of competence and a spirit of innovation. "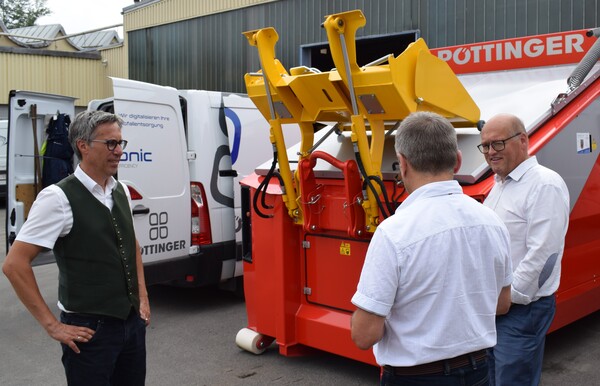 Photo credit:
Title picture: Rudolf Krenner, President of Farmers association National Councilor Georg Strasser, National Councilor Laurenz Pöttinger
Picture below: President of Farmers association National Councilor Georg Strasser, Rudolf Krenner, National Councilor Laurenz Pöttinger
Photographer: Sebastian Wolfram