According to its own information, ASFINAG (the Austrian federal agency for road operation) collects more than 8,000 tons of waste per year, which causes costs of up to 13 million euros per year. Carelessly thrown away rubbish, mainly plastic packaging, also poses a high risk to road safety.
Pilot project with Multipress ECO at three rest areas
The Multipress ECO press container facilitates the correct disposal of residual waste and plastic bottles and creates a clean and odor-free collection point. Thanks to the 5:1 compression on site, the maximum container volume is used. On average, ASFINAG saves four pick-up journeys, which significantly relieves traffic and the environment and saves logistics costs.
The Multipress ECO is equipped with two different options to collect waste. Plastic bottles are thrown in through a round opening, and there is also a volume chamber for residual waste available. The pressing process starts automatically. LED lighting provides additional security.
Overfilled garbage cans can also be avoided, because the Multipress ECO reports via falconic, PÖTTINGER's online administration program, when it is necessary to empty it.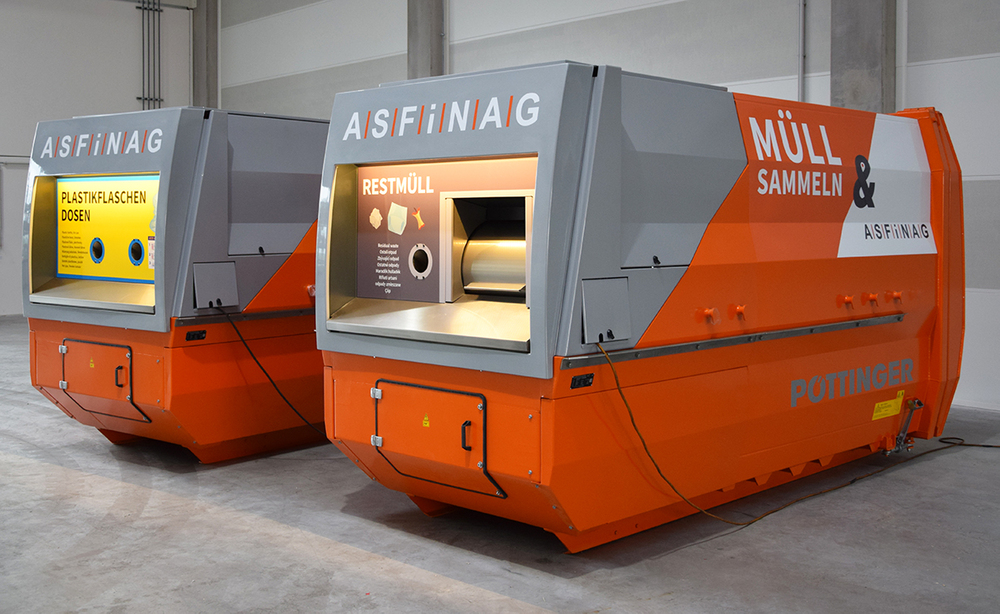 MULTIPRESS ECO equipped with different options for ASFINAG.
Cover picture:
Federeal minister Leonore Gewessler and ASFINAG board member Hartwig Hufnagl try the MULTIPRESS ECO
External Links in German:
Recycling entlang der Autobahn and ASFINAG startet Sommerreisekampagne