POWDER COATING

At PÖTTINGER, as many components as possible are sealed with cataphoretic dip priming and powder coating to a high standard. Thus, our products receive the best possible corrosion protection and a consistently high quality look.
CUSTOMER BENEFITS
Protects the value of your investment for a longer and higher resale value.
STABLE EXECUTION +200%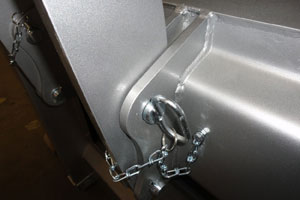 All components which are subject to certain demands in practice are often constructed twice as stable than would be required under normal operation. Our products are designed to cope with the harshest operating conditions.
CUSTOMER BENEFITS
High availability through minimum downtimes, low repair costs.
LOAD TESTS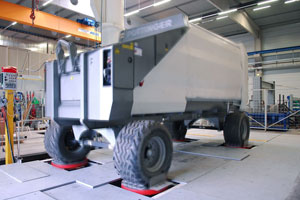 Before a mass-produced machine is introduced in the market by PÖTTINGER, it is put through its paces. The product service life is simulated for weeks in an internally developed test facility using the latest methods. Consequently, any possible weaknesses are identified and corrected at an early stage.
CUSTOMER BENEFITS
Our customers receive innovative, high-performance products with extremly high operational reliability and the best condition for maintenance-free and cost-effective operation.
OPTIMAL MATERIAL GLOW, GEOMETRY OF THE PRESS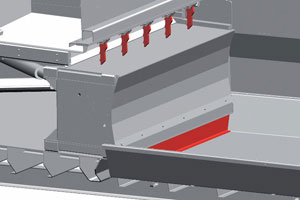 By using the most modern calculation methods, we have succeeded in developing PÖTTINGER presses with optimised geometries.
CUSTOMER BENEFITS
This results in the optimum material flow which facilitates better filling of the containers (+20%) and correspondingly reduced transport costs.
INNOVATIVE DESIGN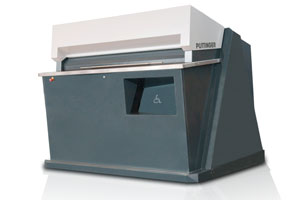 Quality endures - this also applies to our product design. Only if the values of our products are also experienced outwardly, our products receive the acceptance they deserve.
CUSTOMER BENEFITS
The benefit for our customers is that fine products give you more pleasure when handling them. In addition, the attractiveness of a PÖTTINGER brand product clearly delivers more resale value.
TEXTILE COVERINGS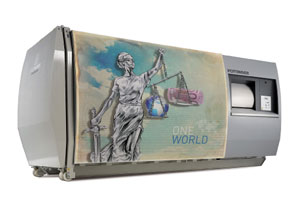 Many of our products are supplied with the option of being equipped with extensive promotional textiles. These high-end advertising spaces offer completely new opportunities for visual communication. The imagination almost knows no bounds.
CUSTOMER BENEFITS
Whether you have your own brand message, adjusting to the wishes of the end customers or adjusting the outer shell to regional circumstances, the products simply receive more attention and acceptance. And in such a way, the experience shows that one obtains better prices.
falconic - EVERYTHING AT A GLANCE
Get all the information about all relevant machine functions with falconic, the control module for press containers. The technology package offers everything that you need to work effectively in our networked world.
CUSTOMER BENEFITS
With falconic, you increase your efficiency through a perfect overview of the logistics, scheduling and maintenance of your press container and reduce your costs in this way.