Stationary waste press with own hydraulic made of a steel-, welded construction for a continuous loading.
The horizontal working, smooth-running press piston is guided sideways right/left and centrically through maintenance-free steel rails (110 mm). Canting and tilting of the press piston is not possible. The press piston is 3-sided expanding.
Standard sealed service-door. Wear-resistant floor plate made of ST 52 - 8 mm thick.
The wide filling opening enables the processing of even bulky waste.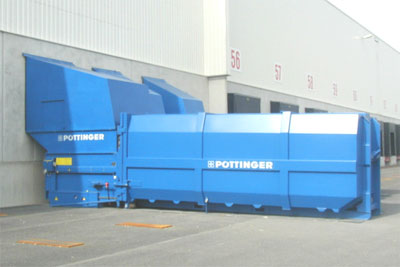 The machine is standard equipped with the press piston position on customer's request open or closed, the main switch, electronic connection and operational panel on the right side in pressing direction, the phase shifter, 2 pieces ratchet blinds, the control of container's presence and the pre full and full lamp.
The docking container is 3-sided conical with rear door, sealing at rear door between container and discharge door all around (discharge door - 1.000 mm height), hook-lift version, with wheels on the opposite side.